Our BBT partner is NAXSO from Italy. NAXSO has supplied BBT to over 300 projects in Bangladesh. NAXSO Sandwich is a modern busbar designed to guarantee high performances in a small dimension product.
High performances are due to the design that is simple and easy and due to aluminum alloy that is 1050, the most pure in the range of extruded aluminum alloys and 13% better performing that the traditional 6060. All the housings are metal zinc galvanized and additionally painted so that the protection against aggressive climate and ambient conditions is very high and even electrical performances are assured by the mix of every pure aluminum and very low temperature and power dispersion due to design and housing painting.
Two strong bolts in all the ratings up to 2000A and three bolts up to 4000A as well as five in 5000A make the joints to ensure a long life and constant pressure on all the conductors so that low maintenance is needed. When plug in is required a compact air busbar is made in the NAXSO Sandwich range to give the right balance between ultra-compact design in Feeder range and air compact to ensure good performance to all the tap offs installed and let an easy manufacturing of the busbar tap off up to 630A can be plugged along the busbar and up to 1000A on the joint.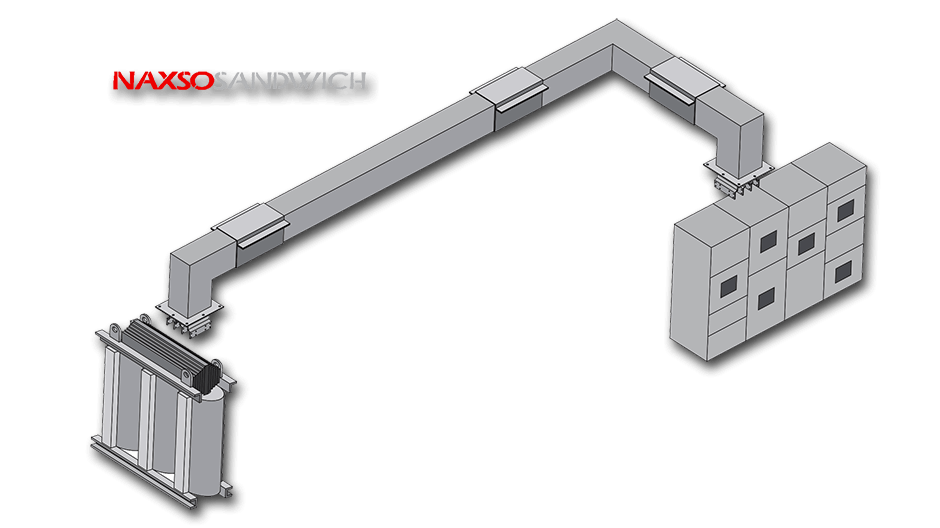 Accessories
Whole lot of accessories to suite the layout plan of buildings, vertical elbows, horizontal elbows, flange ends, combination elbows, reducers, expansion joints etc. are available.
NAXSO Research & Development (R & D)
NAXSO continue to focus on R&D efforts at technology intensive activities that are both commercially viable and protect the environment, thereby enhancing the overall quality of life.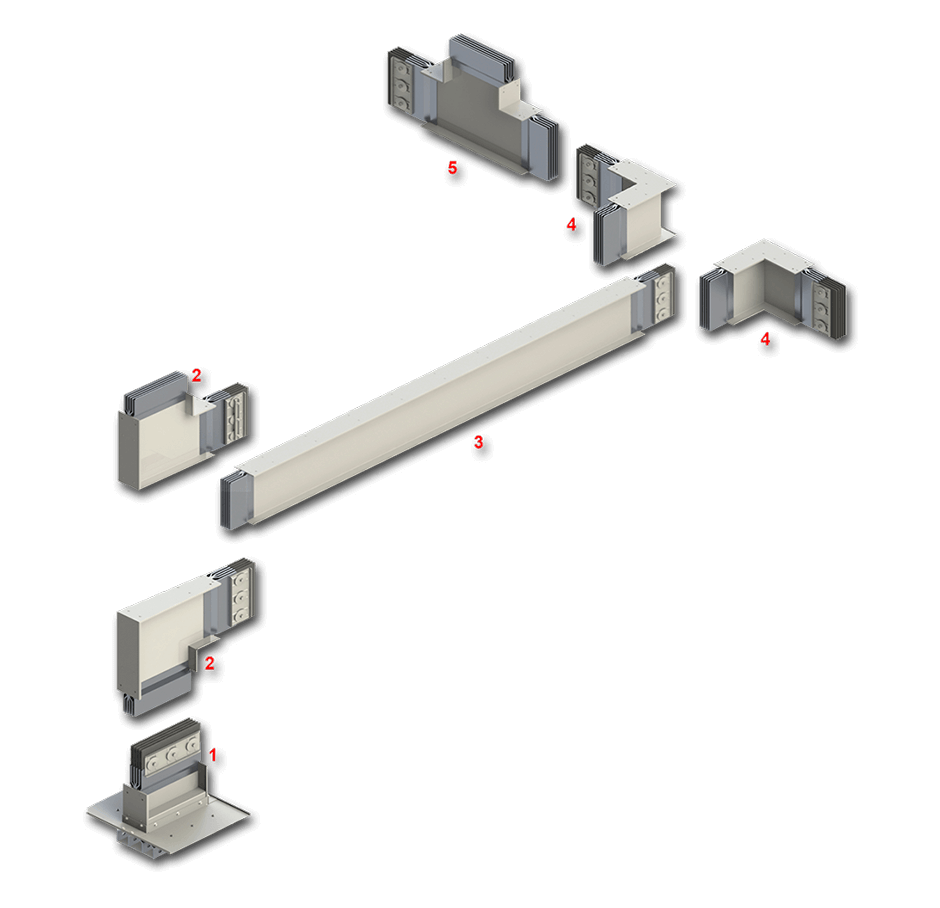 Busduct System or Cable
Cable has long been a traditional means for power distribution in building services. But now with rapid changes in technology occurring daily in the modern industry and commerce, the requirement for an electrical system that can quickly adapt was felt. Busduct is a modern, efficient and cost effective means of providing motive power.
Today's Busduct trunking provides a convenient and economical means of power distribution. The use of Busduct in recent years has increased and this growth offers the system designers, installers and end-users significant advantages. Henikwon SCM Busduct System has been found to be particularly useful in Construction, Hotels, Hospitals, Factories and others.
Benefits of Busduct
The benefits of using Busduct can be seen in many ways. For starters, costing and estimation of the quantities can be determined quickly and accurately
The compact design allows for easy installation and in many cases, the equipment can be pre-assembled prior to delivery which is very much a time saver.
The fact is that the material cost of Busduct trunking compared to cable is higher. But if the total cost of installation and labor along with time consumed are considered, the balance usually tips in favour of Busduct trunking.
The requirement for manpower during the installation of Busduct trunking is very much less compared to the installation work of cables.
Installation of Busduct is a great time saver compared to the installation of cables. Even during fault finding and maintenance work, Busduct emerges as a clear winner. The location of the faults can be quickly located.
Expensive plant downtime can be kept to a minimum when using bus duct trunking. Protective devices are usually in the form of tap-off units where circuit breakers can be installed. This helps to localize the fault when it occurs.
The availability of Busduct trunking is not a problem since more and more manufacturers are marketing their products in various parts of world. Electrical design with Bus Bar trunking is simpler than with cable because its characteristics are so well defined and documented.
Why NAXSO Sandwich
Robust Structural Assembly due to self piercing rivets thanks to German AVDEL Technology. The structural resistance in any point of the rivet area is 20 times higher than a welded point.
Two versions of the housing are available: Metal painted and Aluminum painted. Metal version is giving more tension and structural strength to the busbar and performing better in case of fire as metal has a melting point of around 1500 celsious.
Aluminum version is giving an excellent earth path and reducing to the lowest level electrical noise and mechanical vibrations. Aluminum is light and can draw out the earth and make the busbar cooler because of the high conductivity Degree.
NAXSO busbar design has conductors 5 mm thick thanks to latest extrusion technology so that the single conductors are a little higher in dimension and the cooling is higher by 20% than competitors that adopt 6 mm thick conductors.
To guarantee a high joint stability and performances all the NAXSO sandwich joints have copper tin plated parts to joint bar to bar no matter if the busbar has Aluminum or Copper conductors besides tin plated Copper is totally compatible with Aluminum tinned or not or Copper tinned or not.
Final bending of conductors is a must in NAXSO sandwich because the very soft bending angle and the minor thickness of conductors makes a springing soft effect that means higher capacity in NAXSO joints to adapt conductors to the joint for a better connection and a lower tension drop in every joint.
NAXSO conductors 5 mm thick give to final part of the busbar a high springing effect to conductors that are more easy to be adapted to joint design. Thanks to this soft springing effect NAXSO sandwich joints do not need special strong torque and bolt can be closed since 40 newton meter to 70 newton. As well as all competitors need a strong torque that, if loose, compromise the performance of the joint.
NAXSO sandwich plug in is totally compact no air in any point of the plug in area no extra house in external design. Competitors that use to bend the busbars in joint area have a part of the busbar that is air insulated and so it is not sandwich design so that in three windows busbar three is around total 300 to 600 mm that are air insulated
Additionally every point where conductors are separated to let the tap off plug in they have 4 bendings in each conductor that means in total 12 bendings per single conductors and total 48 extra bending out of three meter compared to zero bendings in NAXSO plug in design. Every bending is causing very little tension drop and so after hundreds and hundreds of bendings the tension drop of a plug in busbar is totally different from a feeder busbar as well as impedance and all other data.
Minimum short circuit capacity is as a minimum level 70 KA for 1 second even in lower ratings since 800A and it is 50 KA for 1 second on 400A and 630A

NAXSO lighting busbar is an aluminum extruded very strong and light busbar track with a number of ratings 25-40-63A and assembled tracks mono busbar and double side back to back to en-sure COMPLETE SEGREGATION when needed for safety reasons. NAXSO lighting is the only lighting busbar in the market with six conductors in one housing so that when is double we can offer 6+6 conductors. All NAXSO tap-offs can be wired and connected to all six conductors both with or without fuses and enormous number of choices is offered and all the tap offs are rewirable.
Why NAXSO Lighting Busbar
Housing is Aluminum made with one extruded unassembled part instead of two. This means an exceptional strength against any "Helix" or "Wave" effect. The busbar is sturdy, rigid and stiff.
Aluminum body makes the busbar extremely light weight.
NAXSO lighting busbars have up to 6 conductors capacity plus the conductors are 690 volts. Any circuit can be wired both energy and signal as well as daly and bus controls up to 40 joints (120 MT). All the tap offs have up to 6 pins capacity for every single tap off and the big one (SBM) can even be fused up to 25A.
Aluminum body means excellent PE conductor 130mm2 around 90 mm2 copper equivalent. No extra PE is necessary. PE housing results in low noise material. The electrical magnetic field is roughly zero.


For your project quotation with NAXSO Aluminum/Copper Power or Lighting BBT, or for additional information regarding BBT, please contact our office.